Suspicion 🇺🇸 (Podezření)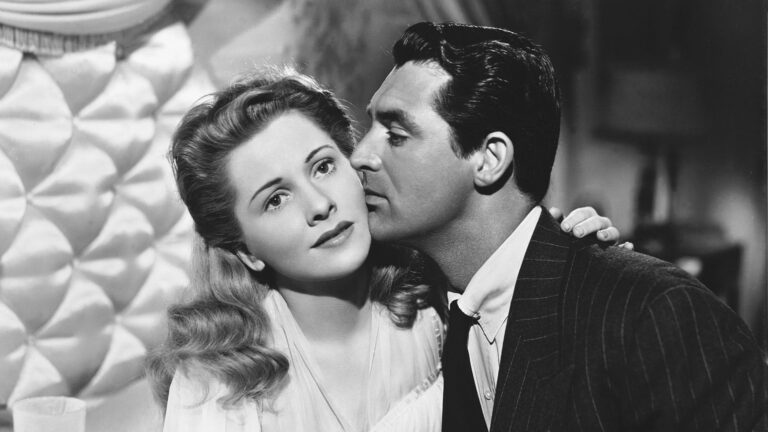 | | |
| --- | --- |
| Program section: | Retrospective: Joan Harrison |
| Directed by: | Alfred Hitchcock |
| Year: | 1941 |
| Country: | USA |
| Length: | 99 min. |
| Cast: | Cary Grant, Joan Fontaine, Cedric Hardwicke, Nigel Bruce, Dame May Whitty |
Screening:
24. 8. 2023 | 16:00 - Central Bohemia Region Hall – SOLD OUT
27. 8. 2023 | 09:15 - innogy Hall – SOLD OUT
From today's perspective, perhaps no other Hollywood actor of the time would have been more convincing as a dangerous predator with tendencies to manipulation, hiding behind the face of a loving and charming captor of women's hearts, than Cary Grant – a versatile performer with a charismatic face, whose romantic as well as crazy, or even devilish, role suited him perfectly. In the character of Johnnie Aysgarth, he merges all levels into a complex character, shrouded in ambiguity. A psychological drama with elements of gothic romance, it depicts Johnnie's power attachment to Lina (Joan Fontaine), who marries him for fear of ending up a spinster after a quick courtship. After an initial enchantment, the idyllic marriage and Lina's inner peace are increasingly destroyed by the gradual revelation of Johnnie's true self – an unscrupulous professional liar who constantly lives on credit and skillfully shifts responsibility for his own actions onto others.
Jana Bébarová
The film is screened in cooperation with the U.S. Embassy in Prague.