The Wolf Trap (Vlčí jáma)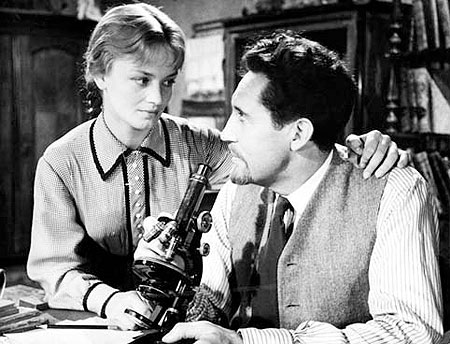 | | |
| --- | --- |
| Program section: | Czechoslovak Noir |
| Directed by: | Jiří Weiss |
| Year: | 1957 |
| Country: | Československo |
| Length: | 95 min. |
| Cast: | Jiřina Šejbalová, Miroslav Doležal, Jana Brejchová, Jaroslav Průcha, Libuše Freslová |
Screening:
18. 8. 2022 | 10:00 - innogy Hall
After Romeo, Juliet and Darkness (1959) and Ninety Degrees in the Shade (1965), Jiří Weiss' work will again be represented at the NFF, this time by a free adaptation of Jarmila Glazarová's novel. The orphaned girl Jana is placed in a foster family, where "Auntie" Klara suffocates everyone with her care. Her many years younger husband Robert, the mayor of a small town, full of gossip, submits to Klara in anguish. Robert and Jana find a kindred spirit in each other, but while he is able to escape and go out of town for work, Jana remains trapped with Klara, who won't give her room to breathe, and the sullen maid Petronila. The film achieves an almost horror-like quality with its bleak atmosphere of hopelessness. The role of the domineering and husband-fixated Klara became the most prominent film role of Jiřina Šejbalová, who was awarded a silver medal for her performance at the Venice FF in 1958. (Veronika Zýková)
Screening in Czech with English subtitles.