The Dark Knight 🇺🇸 (Temný rytíř)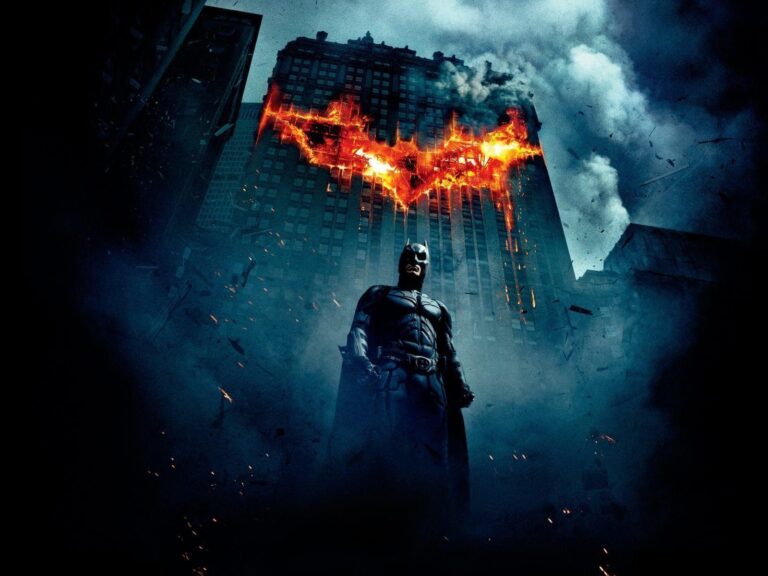 | | |
| --- | --- |
| Program section: | Batman Noir |
| Directed by: | Christopher Nolan |
| Year: | 2008 |
| Country: | USA/GBR |
| Length: | 152 min. |
| Cast: | Christian Bale, Heath Ledger, Aaron Eckhart, Michael Caine, Maggie Gyllenhaal |
Screening:
25. 8. 2023 | 09:30 - U.S. Embassy Hall
26. 8. 2023 | 09:00 - Central Bohemia Region Hall
Flames whip towards the clouds, the body of the skyscraper is torn into the shape of a bat. The Dark Knight looks like a determined policeman, behind whose back the silhouette of one of the attacked WTC twins looms in the thick smoke. The post-9/11 era of blockbusters "in a world without rules" has never seen a more controversial poster than the one for the second part of the Batman trilogy of terror. The 2008 hyperrealistic take on The Dark Knight transforms those (un)written Hollywood rules from the ground up. A "comic book movie" can now be as politically active as it is anarchic. Christopher Nolan, in the manner of functionalism, lets the refined form fill a dramatic, emotionally devastating function. He makes an oversized metropolis into a reinforced concrete jungle, in which he sets up a fierce battle between a hero and an agent of chaos with no past and no clear motivation. Even fifteen years after its premiere, The Dark Knight remains a triumph both literary and cinematic.
Ondřej Čížek
The film is screened in cooperation with the U.S. Embassy in Prague.