Pierrot le fou (Bláznivý Petříček)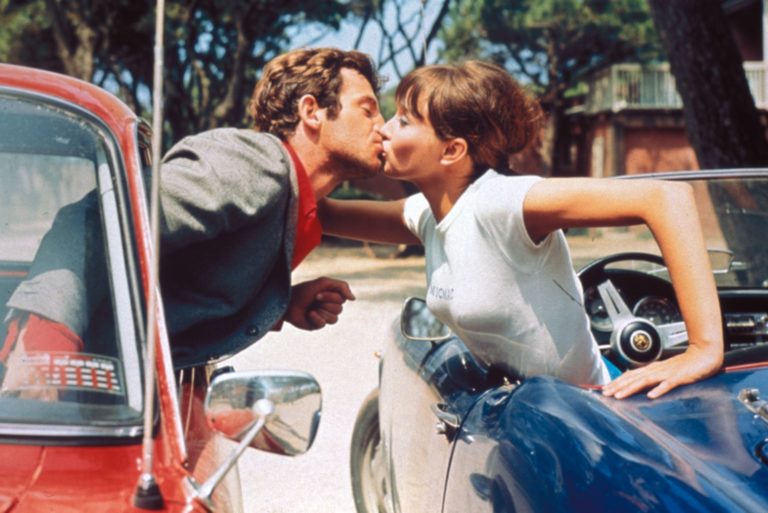 | | |
| --- | --- |
| Program section: | Special Screenings |
| Directed by: | Jean-Luc Godard |
| Year: | 1965 |
| Country: | Francie / Itálie |
| Length: | 110 min. |
| Cast: | Jean-Paul Belmondo, Anna Karina, Samuel Fuller, Jean-Pierre Léaud, Pascal Aubier |
Screening:
21. 8. 2022 | 15:15 - U.S. Embassy Hall
"Film is like a battleground. Love. Hate. Action. Violence. Death. In a word – emotions," says Samuel Fuller in his most famous line in his cameo role in Crazy Pete. He answers Belmondo's character's opening question "what is a cinema" while capturing the essence of Godard's film – a frantic, almost anarchic road movie about lovers on the run who hold nothing sacred. Loosely inspired by the novel Obsession by American Lionel White, it tells the story of amour fou, the mad love to which Ferdinand, an intellectual with literary ambitions, succumbs when his ill-fated love Marianne calls him nothing but "Crazy Pete". He never forgets to correct her, letting her drag him along quite willingly. "He'll do what I tell him," states the life-bored, cheeky Marianne, who, with teddy bear in one scene and gun in hand in the next, is the embodiment of the cruelty behind her apparent innocence. (Jana Bébarová)
Screening in French with Czech subtitles.