Guilty by Suspicion 🇺🇸 (Předem vinni)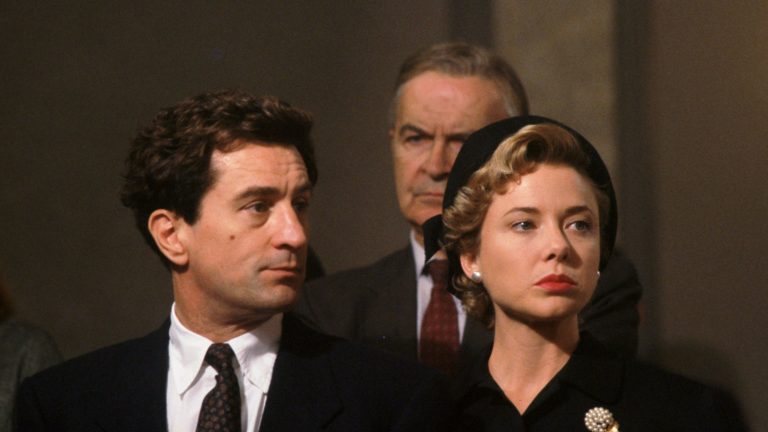 | | |
| --- | --- |
| Program section: | Special Screenings |
| Directed by: | Irwin Winkler |
| Year: | 1991 |
| Country: | USA / Francie |
| Length: | 105 min. |
| Cast: | Robert De Niro, Annette Bening, George Wendt, Patricia Wettig, Sam Wanamaker |
Screening:
18. 8. 2022 | 13:30 - VOYO Hall –– SOLD OUT
Before making his directorial debut in 1991 with Guilty by Suspicion, Irwin Winkler worked exclusively as a film producer. He was behind, for example, the famous 1969 adaptation of Horace McCoy's novel They Shoot Horses, Don't They?, the successful Rocky franchise, and Martin Scorsese's Raging Bull (1980) and Goodfellas (1990). It was Scorsese's regular collaborator Robert De Niro that joined forces with Winkler in the retro-film Guilty by Suspicion, set in McCarthy-era Hollywood, and originally written by Abraham Polonsky (Force of Evil), who was personally affected by McCarthyism. De Niro, who played here the role of a fictional director battling the infamous House Un-American Activities Committee, would later embody the central role in Winkler's second directorial effort, Night and the City, which again (albeit only implicitly) related to the McCarthy witch hunt, as it was a remake of Jules Dassin's classic noir of the same title. (Milan Hain)
Screening in English with Czech subtitles.
The film is screened in cooperation with the U.S. Embassy in Prague.