Gone Girl 🇺🇸 (Zmizelá)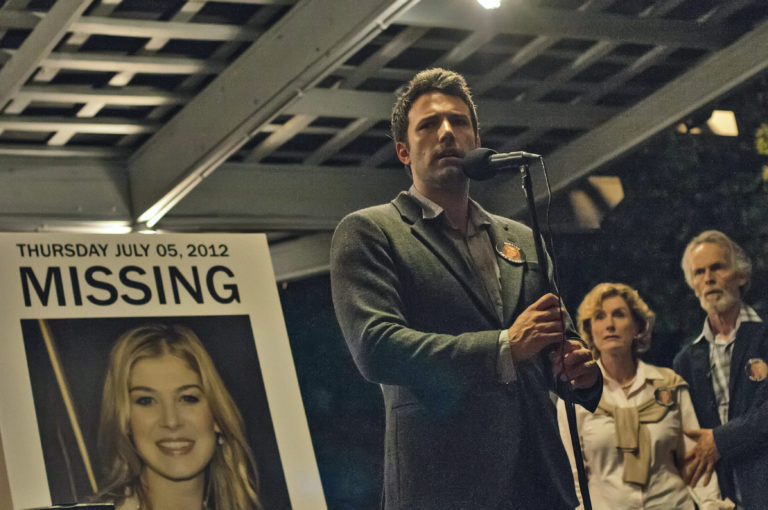 | | |
| --- | --- |
| Program section: | Dark Visions of David Fincher |
| Directed by: | David Fincher |
| Year: | 2014 |
| Country: | USA |
| Length: | 149 min. |
| Cast: | Ben Affleck, Rosamund Pike, Neil Patrick Harris, Tyler Perry, Carrie Coon |
Screening:
20. 8. 2022 | 09:30 - U.S. Embassy Hall
In the context of genre cinema, Gone Girl can be seen as a highly unorthodox, cynical variation of the popular subgenre of Hollywood screwball comedy, enriched by a series of surprising twists. While it does contain the traditional Fincherian motif of the female victim, the input of the author of the book and the screenplay, Gillian Flynn, who programmatically sets out to counter the stereotype of "inherently good, caring women" in her work, has cleverly subverted it.  The protagonist, Amy, is insistent on getting her own way and uses the charms of her personality and acting talent to achieve her selfish interests. The story explores gender issues against the backdrop of a disillusioning reflection on the institution called marriage – Amy and Nick emerge at the end as a "nasty, poisoned Mobius strip". The script gives space to two narrators, one of whom (Amy) proves unreliable halfway through. (Jana Bébarová)
Screening in English with Czech subtitles.
The film is screened in cooperation with the U.S. Embassy in Prague.