Fight Club 🇺🇸 (Klub rváčů)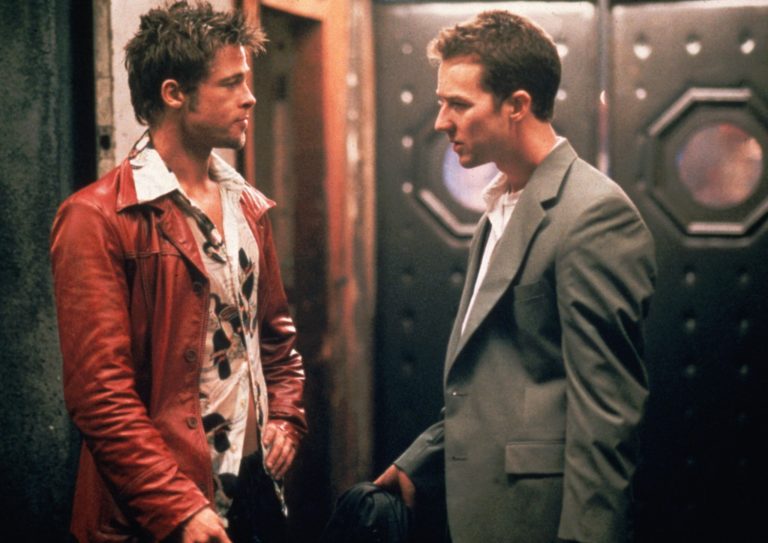 | | |
| --- | --- |
| Program section: | Dark Visions of David Fincher |
| Directed by: | David Fincher |
| Year: | 1999 |
| Country: | USA |
| Length: | 139 min. |
| Cast: | Edward Norton, Brad Pitt, Helena Bonham Carter, Meat Loaf, Jared Leto |
Screening:
18. 8. 2022 | 09:30 - U.S. Embassy Hall
20. 8. 2022 | 17:30 - VOYO Hall –– SOLD OUT
"If I did have a tumor, I'd name it Marla," says Jack, the protagonist of Fight Club, based on the 1996 novel of the same name by American author Chuck Palahniuk. From his position as narrator, he says right from the start that everything that happened to him "has to do with a girl named Marla Singer." The deathly pale woman in black, shrouded in cigarette smoke, who looks as lifeless in her "worn" appearance as the neglected insomniac Jack, and whom the protagonist begins to meet at the support groups he attends to awaken his emotions (or come to life), can be seen as a mirror of himself. But alongside Marla's "tumor", there is also Jack's new friend, the exuberant Tyler Durden, who brings him into the titular fight club. His protective relationship with Jack soon goes awry, however, and the schizophrenic anarchy can begin. (Jana Bébarová)
Screening in English with Czech subtitles.
The film is screened in cooperation with the U.S. Embassy in Prague.