Batman 🇺🇸 (Batman)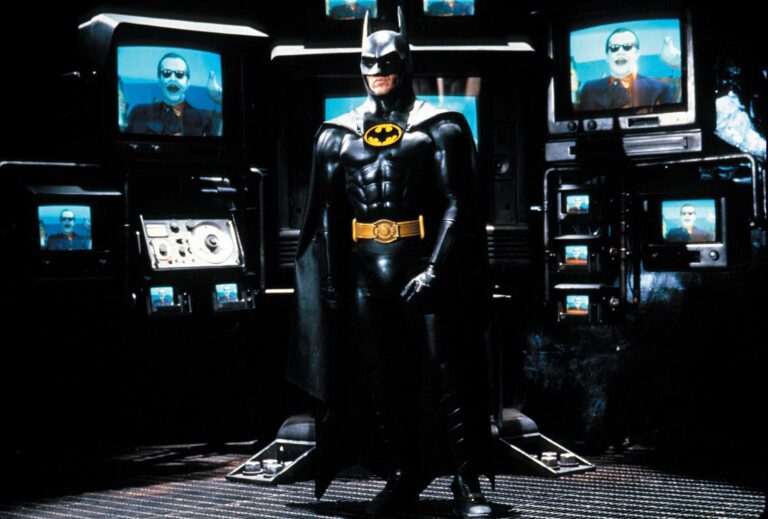 | | |
| --- | --- |
| Program section: | Batman Noir |
| Directed by: | Tim Burton |
| Year: | 1989 |
| Country: | USA/GBR |
| Length: | 126 min. |
| Cast: | Michael Keaton, Jack Nicholson, Kim Basinger, Robert Wuhl, Pat Hingle |
Screening:
27. 8. 2023 | 09:00 - Central Bohemia Region Hall
Back in the 1960s, he was still flying a batcopter with shark spray. The reality between camp and pop art changed radically in the 1980s. The city bleeds and its knight enters the dark times of adulthood. Frank Miller's revisionist The Dark Knight Returns (1986), and the 1989 Batman film under its influence, reach their creative peak. Thirty-one-year-old eccentric Tim Burton boldly takes on the megalomaniacal production for a then-astronomical fifty million dollars, ingeniously casting a comedian in the title role and having one of the greatest sets in film history built at Pinewood Studios. The result is an artistically subversive fusion of retro-gangster film with gothic horror and German Expressionism. The stylistic timelessness is evidenced by the black bat symbol encased in gold from the production designer Anton Furst. It is also what made Batman a jewel in the emerging era of synergistic blockbusters.
Ondřej Čížek
The film is screened in cooperation with the U.S. Embassy in Prague.